Von Freitag, 04. Oktober 2019 - 19:00 Uhr bis Sonntag, 06. Oktober 2019 - 22:00 Uhr.
Speech is Not Free Festival
Poet Republik Ltd invites you:
5th Speech is Not Free Festival:
Through the looking glass of William S. Burroughs and Allen Ginsberg
Poetry/ Art/ Film/ Performance
Sprechsaal Gallery/ Marienstraße 26, 10117 Berlin
October 4-6th 2019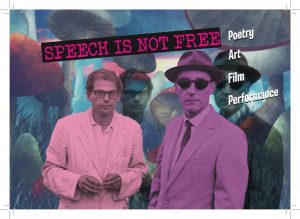 Schedule of Events:
Poetry/Performance: Friday 4 Oct: 19:00 Uhr—Opening reception, Poetry Reading and Performance: Jan Wagner, Jean-Nöel Chazelle, Aliah Rosenthal, Adrian Nichols, Shelley Marlow, Maria Teutsch, River Tabor
Burroughs' Film and Poetry: Saturday 5 Oct: 19:00 Uhr—Poetry Reading: Sailesh Naidu. Film screening: "William S. Burroughs, A Man Within" Craft talk with director/writer Yony Leyser
Ginsberg Film and Poetry Workshop/Reading: Sunday 6 Oct: 16:00 Uhr—Poetry of Protest generative workshop with Maria Teutsch
18:00 Uhr Poetry Reading with special guest
19:00 Uhr— Film Screening: "Poet on the Lower East Side", A day in the life film by Allen Ginsberg. Informal discussion to follow with Peter Hale of Ginsberg Trust, et al.
Exhibition of William S. Burroughs' Art; Allen Ginsberg's photography and Jean-Nöel Chazelle's paintings.
Special thanks to Yuri Zapancic, Peter Hale, and to Lars Dreiucker at Sprechsaal, the Allen Ginsberg Trust, the William S. Burroughs Foundation and Ping-Pong Free Press.
This is the 5th Annual Speech is not Free Event. The first was held at the Coagula Curatorial Gallery in Los Angeles and McCabe's Guitar Shop featuring Paz Lenchantin and other musical guests. The second at the Henry Miller Library in Big Sur, California featuring Anne Waldman and Ambrose Bye and a screening of Howl. The Third was also at the HML with a staged reading of Henry Miller and Anaïs Nin and featuring musical guests Al Rose and poet Brenda Coultas. The fourth was at the Howl! Happening Gallery in NYC with poetry readings by Pamela Sneed, Joanna Fuhrman, Kate Lutzner, Maria Teutsch, Jameson O'Hara Laurens, J. Hope Stein, Brenda Coultas, Shelley Marlow and others.
For more details visit: www.marialoveswords.com