Am Sonntag, 28. April 2019 - 19:00 Uhr
Feng Li – Artist Talk & Book Lounge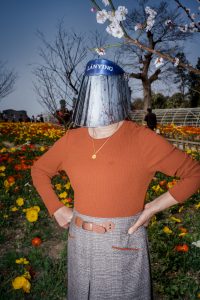 Feng Li im Gespräch mit Thomas Gust und Michael Kahn-Ackermann
Born 1971 in Chengdu (Sichuan), Feng Li, a graduate of Chinese medicine, practices photography both as a civil servant for the provincial Department of Communication and as an independent. In fact, he constantly gravitates between official imagery and his personal work, which is at complete odds with the propaganda he's crafting for a living. The photos of Feng Li are like a series of fortuitous encounters with an unlikely cast of reality. Since 2005, may he be photographing a sedative congress or moving freely into the weekend crowd, Feng Li constantly nourishes his single, unique and plethoric series White Night.
In the end of 2017, Feng Li's works were exhibited for the first time in Paris, his book "White Night" published by Jiazazhi was selected in the Aperture x Photo Book Awards and he won the Jimei x Arles Discovery Award. He will be exhibiting in Les Rencontres d'Arles 2018.
is a Berlin-based photographer, photobookseller, publisher and lecturer.
Together with the photographer Joe Dilworth He is running the photography bookshop
and gallery 'Bildband Berlin'.
He is working as a lecturer about photography, photography books and book design at several
schools & universities (e.g. University of fine arts, Berlin / FH Dortmund/ Ostkreuzschule für Fotografie, Berlin, FH Muenster , NsfF, Berlin). In 2018 he founding together with the photographer and designer Ana Druga
'Buchkunst Berlin', a company and publishing house for the creative and conceptual development of photography books and beyond.