Am Donnerstag, 27. September 2018 - 19:30 Uhr - 22:00 Uhr.
.a.[not].I.  Performance Lecture: – Cibelle Cavalli Bastos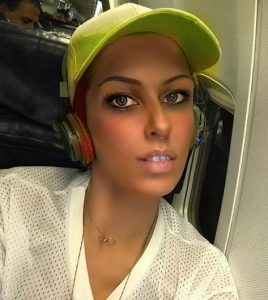 .a.[not].I.  Performance Lecture: 27. September
body/aevtar interface #deprogramming : change the rithm, redirect the algorithm
Cibelle Cavalli Bastos (aka @aevtarperform), explores what is preventing our mirror neurons from firing into radical empathy. Upon researching cognitive science, quantum mechanics, eastern philosophy and technology, the artist has drawn metaphors and new language pathways for intra & nanopolitical strategies and non-binary thinking for a quantum leap in consciousness through deprogramming processes. In a one-hour performance lecture and ensuing discussion on September 27th, they will present their ideas and methods for the conceptual exploration of the self, identity and its perception.
Deprogramming addresses understanding the functionality of our bodies as programable interfaces and locating societal malware we have installed within us individually as well as collective. Moreover it seeks to establish ways to uninstall these programs in order to stop their proliferation, instead redirecting the algorithms already in place and to deprogram the system as a collective by being active users of our inner tech.
Anyone who wishes to further explore these concepts in a movement-based, guided group activity and discussion is welcome to join us for a 2-hour workshop on the 29th.